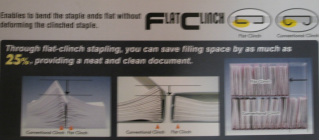 I try not to get too excited about ordinary things, but these staplers really are revolutionary for anyone involved with any kind of paperwork, office work, or schoolwork where stapling is involved. Max staplers are effortless (By effortless, I mean that you can staple through a stack of 20 papers by pressing down with your pointer finger alone.), and will eliminate your frustration with staples jamming/getting mangled, or just not having enough power to punch through a stack of papers. Once you try a Max stapler you'll never understand why staplers were not always made like this. The HD-50F stapler on the left above was the reason I started my company.

The MAX HD-50DF in the center above is a stapler that clinches staples completely flat on the reverse side of the paper, which reduces paper stacks and paper filing by 25% versus normal staplers, has "twin lever" action which easily staples up to 30 sheets of paper with little effort, and, best of all, it does not jam! This stapler is great for anyone in a school, business, medical, legal, governmental, or any other type of office environment who has to use a stapler. Stapler uses standard staples and comes in black.



---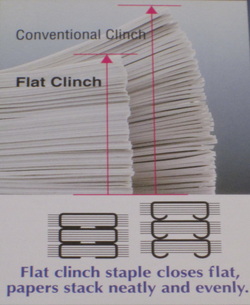 The HD-50F, the half strip stapler on the left above, is effortless to use. It requires
normal size staples, clinches totally flat on the reverse side of paper as
well, and is able to staple up to 23 sheets of paper easily! The HD-50F stapler is
perfect for anyone who has limited desk space, but still wants a powerful stapler. This design comes
in black.

The HD-10FL above on the right is a mini-stapler that would be
ideal for traveling with, for backup in a desk drawer, and would fit comfortably
in a handbag, backpack, or briefcase. This stapler uses flat clinch technology as well,
and is able to staple up to 20 sheets of paper with 50% less effort than standard staplers.
This stapler uses No.10 staples, which come in 100 count strips. The HD-10FL stapler comes in
white and blue.


---

Please ask yourself these two questions:
1) Have you accepted as a matter of life that staplers are supposed to jam from time to time?
2) Does the stapler you use require some effort to get the job done?

If you answered yes to either one of these two questions, then it's time to try a jam-free, effortless Max stapler, you'll really enjoy it!